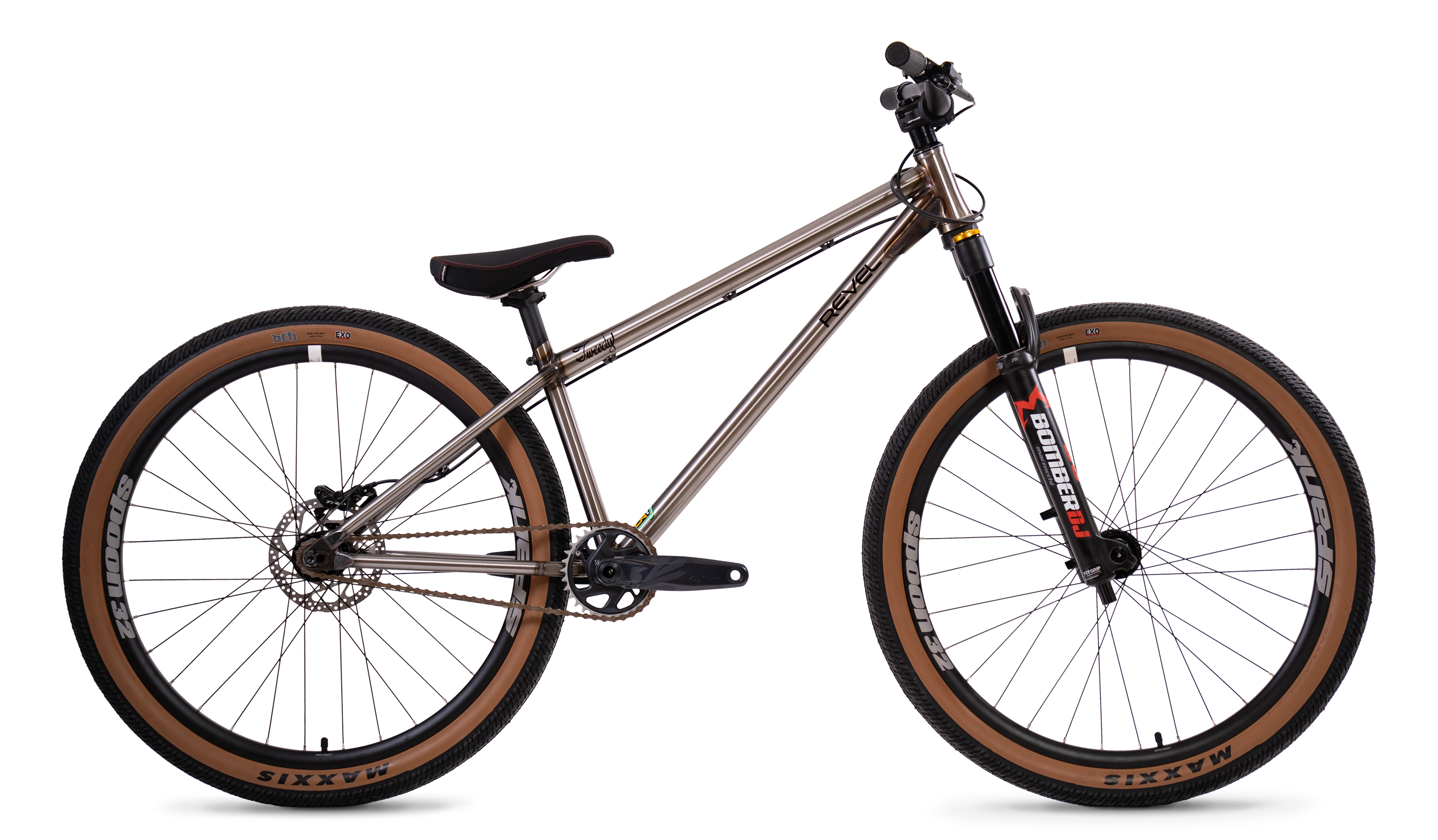 Overview
Steel the Show
We can't all ride like Brady Tweedy, but we can ride his bike and try! Introducing the Tweedy, our pro-model designed closely with Revel team rider, Brady Tweedy. First things first, we knew we wanted this bike to be top of the line and what is that without Reynolds 853 steel- the best of the best tubing for a steel bicycle. This frame is simple, badass, elegant, and will develop a nice patina under the clear coat with age. 
When we sat down with Brady, he wanted clean, simple, and quality. A threaded BB, integrated headset, bolt-on axle and integrated seat clamp provide just the simplicity and style he hoped for. To keep it clean while highlighting the quality, we used an ultra-durable clear coat to show off the welds on the frame, and they are stunning. These perfect welds are just a small example of the skill and precision that goes into creating these frames at one of the best artisan steel bike manufacturing facilities in Taiwan.  
At Revel, we aim to do everything we can to support our athletes on and off the bikes. We'd like to thank Brady Tweedy for the hard work he put in to help create this dirt jumping masterpiece. A portion of all sales of this pro-model go to Brady to support his career. Want to keep up with Mr. Tweedy? Follow him on Instagram here: Brady Tweedy's Instagram 
Not finding what you are looking for on this page? Check out our FAQ or contact us directly!
Key Attributes
Reynold 853 Steel
Frame Material
The CBF™ focuses the center of curvature in a very finite area on the chainline/top of the chainring, pointing the pedaling forces directly where you want them.
Learn More »
Build Your Bike
Build your bike below to see pricing and availability. Prefer to only see what is in-stock? Check out our Shop In-Stock page!
Tweedy
Build Specs
| | Complete DJ Build | | |
| --- | --- | --- | --- |
| Frame | Revel Tweedy Dirt Jumper | POST | Alloy Seatpost 27.2x350mm Matte Black |
| Fork | Marzocchi Bomber DJ 26″ 100mm Matte Black | SADDLE | Spank Spoon |
| Wheels | Spank Spoon 26″ | BRAKES / ROTORS | TRP Slate T4 / TRP R1 1.8 160mm |
| Headset | Cane Creek 40-Series | CHAIN | Single Speed |
| Tires | Maxxis DTH 26×2.3 EXO/TW Wire | CRANKSET | Sram GX Eagle 170mm 30t |
| Bar | Spank Spoon 40mm Black | BOTTOM BRACKET | SRAM DUB BSA |
| Stem | Spank Spoon 31.8x43mm Black | GRIPS | Lizard Skins Charger Evo Black |
The Tweedy helps me go bigger than ever before! With world famous Reynolds steel tubing and perfect welds, the Tweedy stands out from the rest at the local spot. Get yourself on one and you'll never need to buy another DJ!
| | One Size Fits Most |
| --- | --- |
| | One Size Fits Most |
| RIDER HEIGHT | One Size Fits Most |
| EFFECTIVE TOP TUBE LENGTH | 618mm |
| SEAT TUBE LENGTH | 325mm |
| SEAT TUBE ANGLE (EFFECTIVE/ACTUAL) | 72° |
| CHAIN STAY LENGTH | 382mm |
| BOTTOM BRACKET DROP | 24mm |
| BOTTOM BRACKET HEIGHT | 318mm |
| HEAD TUBE ANGLE | 68.7° |
| WHEEL BASE | 1064mm |
| HEAD TUBE LENGTH | 110mm |
| AXLE TO CROWN | 482mm |
| FORK OFFSET | 40mm |
| TRAIL | 123mm |
| STACK | 561mm |
| REACH | 430mm |
REAR DROPOUT
Sliding horizontal dropouts / 10x135mm
SEATPOST DIAMETER
27.2mm, Integrated Seat Clamp
REAR BRAKE
51mm IS Standard
BRAKE ROTORS
140mm Direct (180mm max)
TIRE CLEARANCE
26" x 2.3" (rear)
BOTTOM BRACKET
BSA 73mm English Threaded
MAX CHAINRING
32T with 52mm Chainline
HEADSET
IS42 upper / IS52 Lower
MATERIAL
Reynolds 853 Steel
The Details
Design Features
Reynolds 853 Steel
Only the best when going big. Reynolds 853 Steel tubing is the top of the line material for steel bikes. Durable, flexible, and stylish, the Tweedy can handle it all.
Horizontal Sliding Dropouts
Sliding horizontal dropouts make chain tensioning a breeze so you can lap the jump line all day without headache.
Integrated Seat Clamp
Pop the seat post in and get to riding. The Tweedy's integrated seat post looks good and makes for one less part to track down.
External Brake Routing
Eliminate the headache of routing the brake lines into the frame and fishing them through the back, it's a dirt jumper so lets get to the fun stuff!
Support
Without getting too material nerdy here... it is undoubtedly the best of the best. Generally, Reynolds 853 is considered the best quality and strongest steel tubing for any sort of bike. It is a complicated blend of iron, carbon, manganese, molybdenum, chrome, and some other stuff that is then cold-drawn and heat treated in a way that makes it far superior to other steel tubing out there. The tubing is double butted to best balance strength, ride quality, and weldability.
We're turning to our youth days here and bringing back the skateboard industry led "pro-model", designing models with the direct input of athletes. We worked closely with our pro rider, Brady Tweedy to engineer the ride of his dreams that in turn, will support his career and outreach. This is a first for the bike industry (that we know of) and seeing how these flew off the shelves, we have no doubt Brady helped us create something very special.
Required Tools for Basic Service
» Torque Wrench
» 1x 4mm Hex Wrench
» 1x 4mm Hex Bit
» 1x 5mm Hex Bit
» 1x 6mm Hex Bit
» 1x 8mm Hex Bit
| | Part Number | Description | Qty. |
| --- | --- | --- | --- |
| A | | Pivot #1 Axle | |
| B | | Pivot #2 Axle | |
| C | | Pivot #3 Axle | |
| D | | Pivot #4 Axle | |
| E | | Pivot #5 Axle | |
| F | | Pivot #1 Spacer | |
| G | | Pivot #2 Spacer | |
| H | | Pivot #3 Spacer | |
| I | | Pivot #4 Spacer | |
| J | | Pivot #5 Spacer | |
| K | | Pivot #1/#2/#4 Bolt | |
| L | | Pivot #3/#5 Bolt | |
| M | | Forward Shock Bolt | |
| N | | 680 1V Bearing | |
| O | | Pivot #1 Inner Spacer | |
| P | | Pivot #2 Inner Spacer | |
| Q | | Forward Shock Axle | |
| R | | Forward Shock Washers | |
| S | | Rear Shock Bolt | |
| T | | Revel Axle | |
| U | | Rail/Rascal Derailleur Hanger | |
| V | | Rail/Rascal Derailleur Hanger Bolt | |
| W | | Downtube Hose Clamp | |
| X | | Hose Clamp/Bottle Mount Bolts | |
Download Service Manual