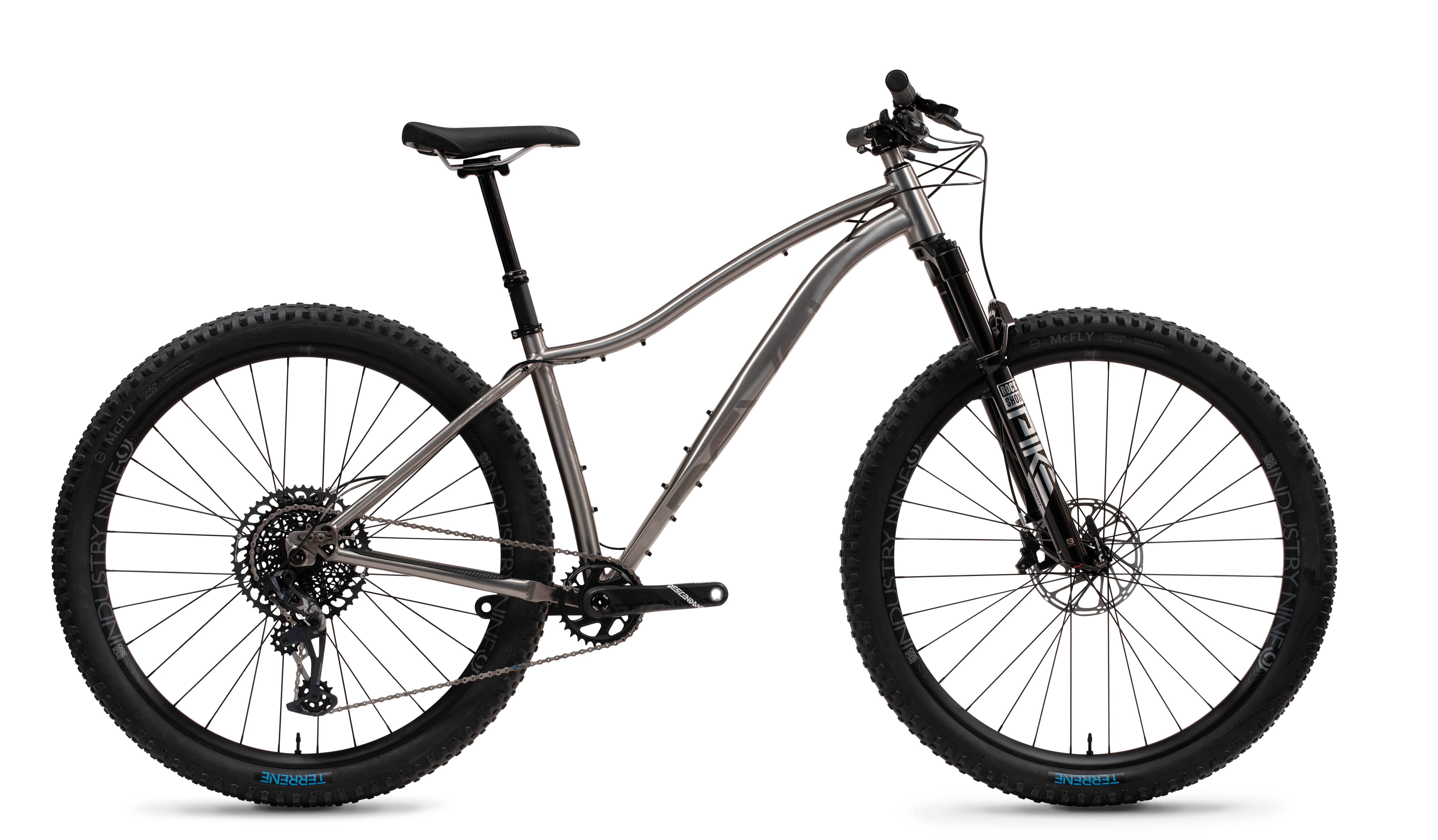 Overview
BECAUSE THERE'S ALWAYS SOMETHING EPIC WAITING TO BE DISCOVERED.
From the Baja Divide to the Colorado Trail and thousands of miles of singletrack all over the world, the Wayward sure has made a name for itself.
Baja Divide. Colorado Trail. Arizona Trail: a small sample of epic outings that this bike absolutely thrives on. The Wayward V2 leads the way as the ultimate 29+ adventure machine. This bike was designed for epic bikepacking and adventures and it thrives fully loaded. Or, ride it as a normal XC/all-mountain hardtail, and the 29+ tires will have you smiling for miles with their capability and comfort. Belt drive split, sliding titanium dropouts, lots of mounting points, and perfect geometry for long days in the saddle make this a truly versatile adventure machine.
Key Attributes
The CBF™ focuses the center of curvature in a very finite area on the chainline/top of the chainring, pointing the pedaling forces directly where you want them.
Learn More »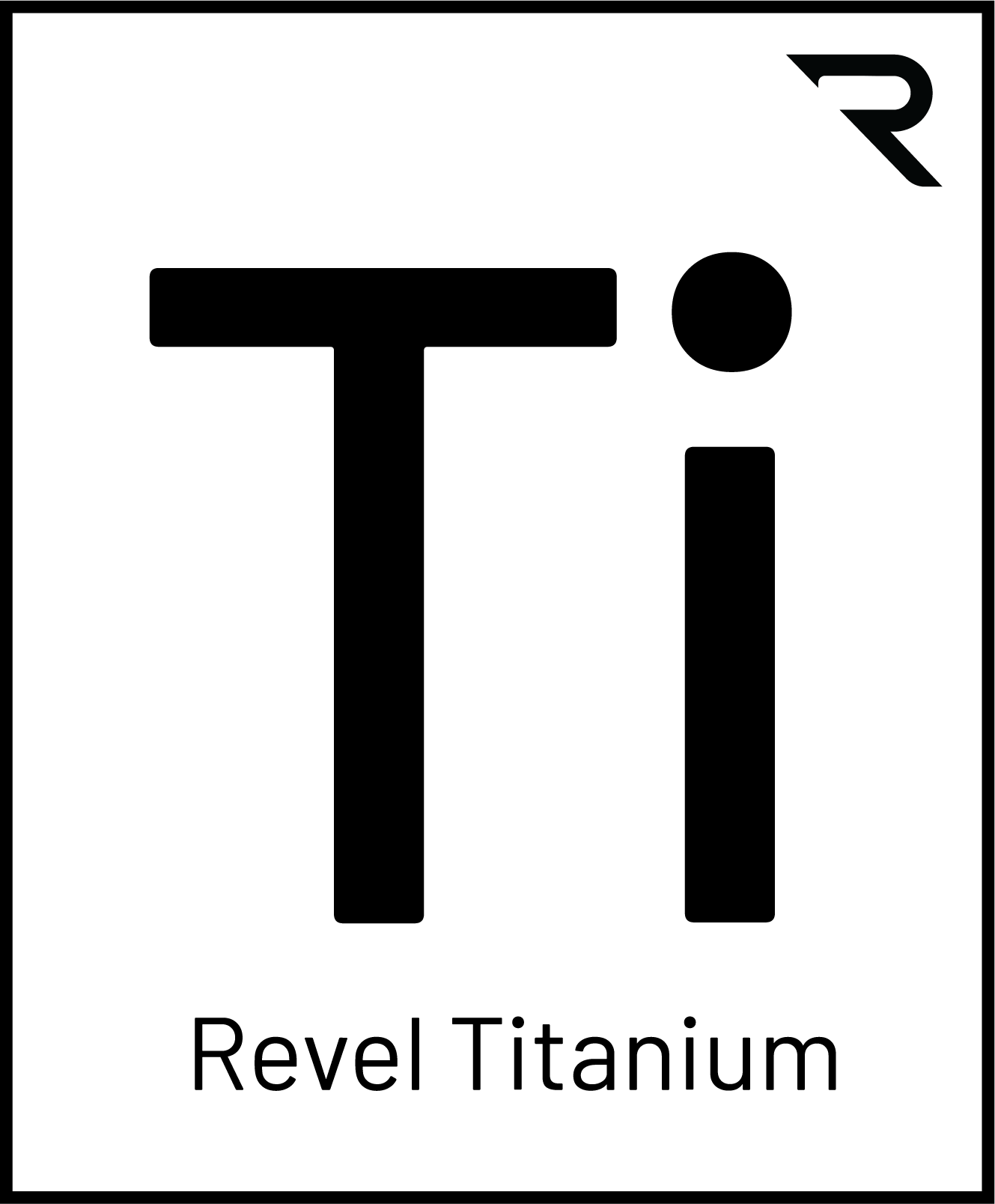 Revel Titanium takes a modern approach to an already tried and true bike frame material. Strong and reliable, yet comfortable and easy on the eyes.
Learn More »
Build Your Bike
Build your bike below to see pricing and availability. Prefer to only see what is in-stock? Check out our Shop In-Stock page!
Wayward
Build Specs
| | Frame Only Components |
| --- | --- |
| Frame | Revel Wayward 29"+ Hardtail |
| Headset | Cane Creek 40-Series |
| Axle | Revel UDH Rear Axle Boost 12x177 |
| Seat Clamp | Revel Seat Clamp 34.9 Black |
| Derailleur Hanger | Sram UDH - Universal Derailleur Hanger |
| Bottle Bolts | Nylon Bottle Bolts |
| Chainstay Protector | Lizard Skins Custom Why CS Protector |
From super technical singletrack to forgotten logging roads, the Wayward seamlessly transitioned from trail rig to bikepacking machine, allowing me to continue riding no matter how the terrain changed. Read more...
...the Wayward is so capable as a pure mountain bike that I had no trouble charging rocky, technical lines at unreasonable speeds — all while riding the trail for the first time. I also found myself setting personal records on both climbs and descents at my local haunts. It's the first bike I've ridden that truly made me question the need for full suspension.Read more...
| | M | L | XL |
| --- | --- | --- | --- |
| | M | L | XL |
| RIDER HEIGHT (in.) | 5'5"-5'10" | 5'9"-6'2" | 6'1"-6'6" |
| RIDER HEIGHT (cm.) | 165-178cm | 175-188cm | 186-198cm |
| EFFECTIVE TOP TUBE LENGTH | 621mm | 643mm | 664mm |
| SEAT TUBE LENGTH | 420mm | 460mm | 485mm |
| SEAT TUBE ANGLE (EFFECTIVE/ACTUAL) | 74° | 74° | 74° |
| CHAIN STAY LENGTH | 440-455mm | 440-455mm | 440-455mm |
| BOTTOM BRACKET DROP | 75mm | 75mm | 75mm |
| BOTTOM BRACKET HEIGHT | 307mm | 307mm | 307mm |
| HEAD TUBE ANGLE | 68.5° | 68.5° | 68.5° |
| WHEEL BASE | 1160mm | 1183mm | 1203mm |
| HEAD TUBE LENGTH | 110mm | 116mm | 118mm |
| AXLE TO CROWN | 510mm | 510mm | 510mm |
| FORK OFFSET | 51mm | 51mm | 51mm |
| TRAIL | 92mm | 92mm | 92mm |
| STACK | 636mm | 639mm | 642mm |
| REACH | 455mm | 475mm | 499mm |
| STANDOVER | 720mm | 745mm | 760mm |
FRONT TRAVEL
120mm min/max
HUB SPACING
Boost 148mm rear / 110 mm front
SEATPOST DIAMETER
31.6mm Seatpost, 34.9 Seat Clamp
SEAT POST INSERTION DEPTH
220mm (Medium)
260mm (Large)
287mm (X-Large)
REAR BRAKE
Post Mount
Belt Drive Compatible
BRAKE ROTORS
160mm min/ 180mm max rotor
TIRE CLEARANCE
29 x 3.0" (rear)
BOTTOM BRACKET
BSA 73mm English Threaded
MAX CHAINRING
36T, 55mm Chainline
HEADSET
IS42 upper / IS52 Lower
BOTTLE BOSSES
4 complete sets
3 sets in front triangle
1 set under downtube
RACK MOUNTS
All standard rack and fender mounts
The Details
Design Features
Cold-formed 3/2.5 titanium tubing
our modern take on traditional titanium- these tube shapes optimize stiffness and compliance
CNC machined 6/4 titanium
headtube, BB, dropouts, and inserts
Internal cable routing
clean, quiet, and simple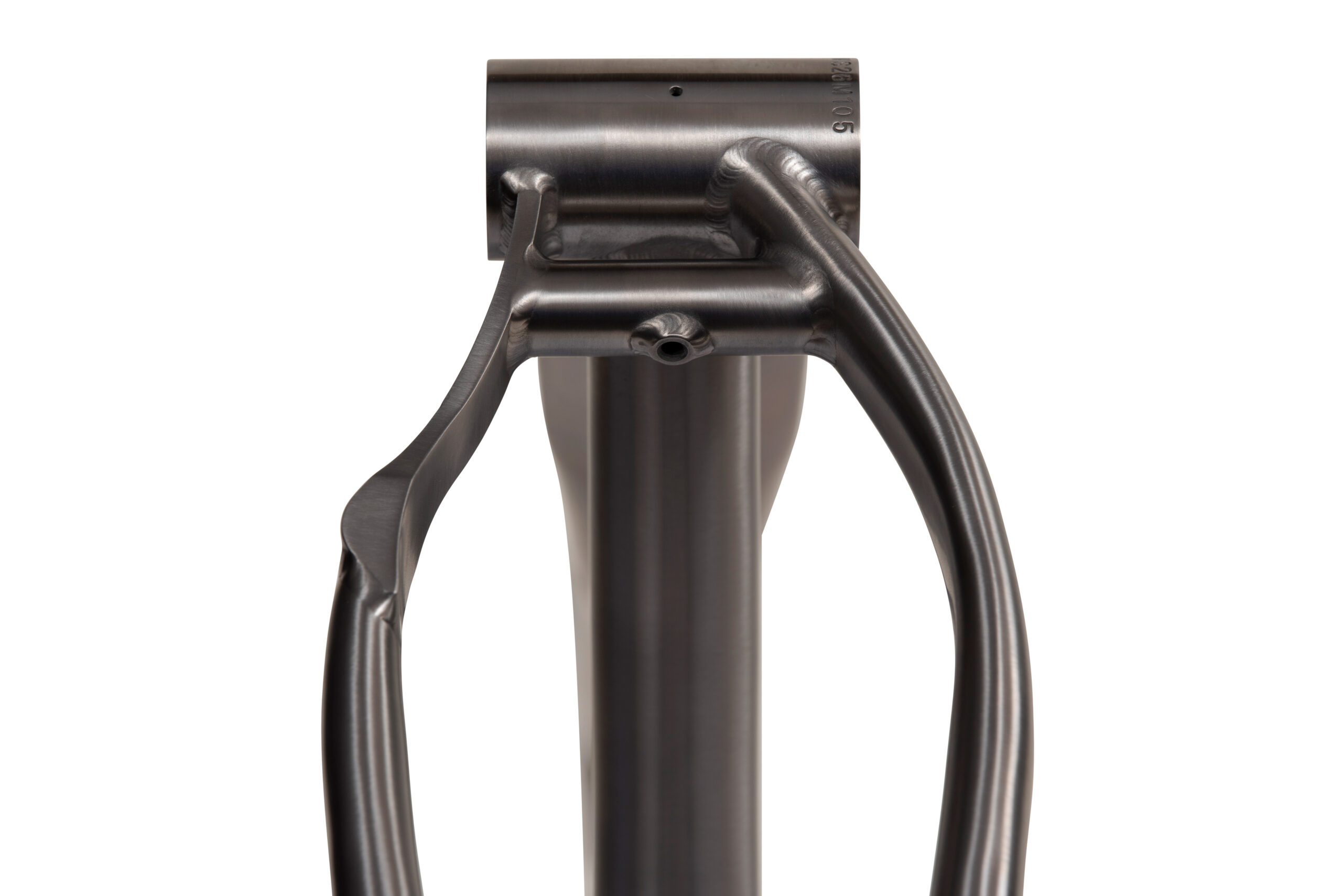 Threaded BB
Simple, easy, functional
Sliding UDH dropouts
Future proofing for all drivetrains and chainstay length adjustability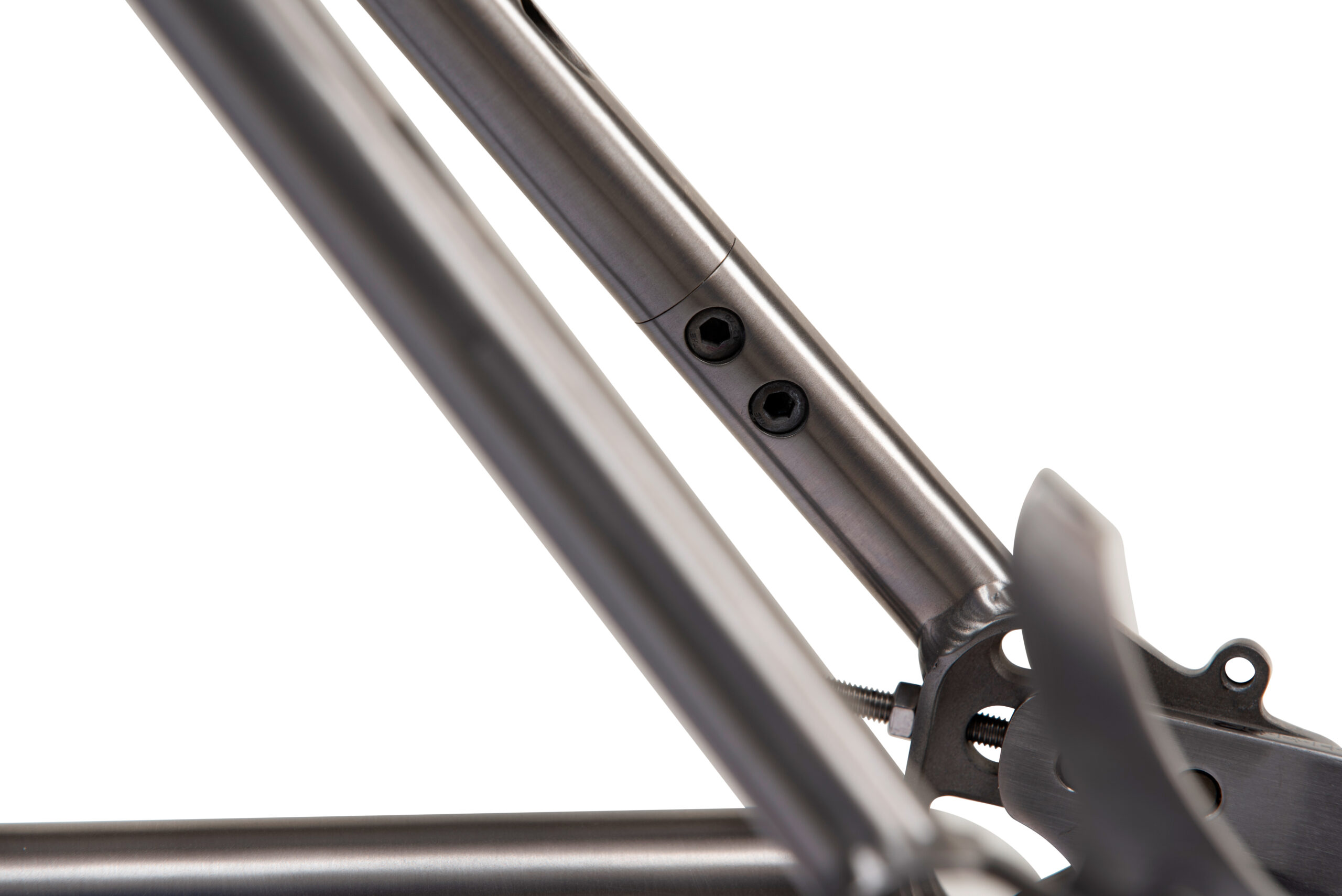 Belt drive split
Our unique 6/4 titanium machined puzzle-piece dropout makes for a stealthy, functional, and hidden design if you don't want to run chains
Rack Mounts
All standard rack and fender mounts
IS 42/52 Integrated headset
easy headset installation
Support
We do now! Well, in a way, we always have… our sister company, Why Cycles, has been manufacturing the most advanced titanium bikes in the world since 2016. We're retiring the Why Cycles brand, so now you can find the most advanced carbon and titanium bikes on the market under one name - Revel Bikes.
Revel titanium frames are lovingly hand-built in the same family-owned and operated factory in northern China used by Why Cycles for a half-decade. All Revel bikes are then assembled and shipped from our facility in Carbondale, CO.
The Wayward is an incredible platform for your ultimate custom adventure build. We've found that most riders going on epic rides with the Wayward prefer to build their bike up by selecting every part to suit their needs. If picking every part sounds daunting, just reach out to any Revel dealer for advice on parts or a pro mechanic to do the build.
Any 29" fork with clearance for plus tires will work. We recommend a minimum of 2.8" but it depends on the tires you'd like to run. The Rockshox Pike is a great choice that fits 29x3.0" tires. A suspension corrected rigid fork is a great option for more mounting and bikepacking features.
Depends - get the Wayward if you're looking for a bikepacking-first rig that can comfortably handle hefty loads on rugged backcountry excursions. Get the El Jefe if you're looking for a ripping fast hardtail that can bikepack when it needs to.
One that fits! We love the bags we've seen and used from companies like Rogue Panda, Oveja Negra and Good Busy Gear.
Yes! Just make sure that you've got enough tire clearance and the axle-to-crown length is as close to 510mm as possible.
Yes! Check with the belt drive manufacturer for specifications.
We recommend using some rubbing alcohol and a Scotch Brite pad and scrubbing gently in a "shoe-shine" motion (one direction or back and forth, not circular), then wiping down and finishing with a light coat of furniture polish like Pledge. This should work for both oxidation and light scratches. The graphics are sand-blasted into the frame, so you won't hurt them if you use a soft touch.
15-18Nm for the dropout bolts, 3-4Nm for the tensioner bolt
M5x0.8x35mm Stainless steel cap screw
We've updated all Revel Ti bikes with SRAM UDH (Universal Derailleur Hanger), so replacement hangers are easier to find and your bike's drivetrain is more future-proof against manufacturer updates down the line.
Absolutely! All Why Cycles and Revel Bikes frames come with lifetime warranties and a generous crash replacement program for the original purchaser. If anything does happen and you need a replacement frame, it will most likely be replaced with a Revel branded titanium frame, but we'll get you back to riding ASAP!
Email [email protected] or give the fine Rider Support Team here at Revel a ring: 970-456-7336 ext. 2020
Required Tools for Basic Service
» Torque Wrench
» 1x 4mm Hex Wrench
» 1x 4mm Hex Bit
» 1x 5mm Hex Bit
» 1x 6mm Hex Bit
» 1x 8mm Hex Bit
| | Part Number | Description | Qty. |
| --- | --- | --- | --- |
| A | | Pivot #1 Axle | |
| B | | Pivot #2 Axle | |
| C | | Pivot #3 Axle | |
| D | | Pivot #4 Axle | |
| E | | Pivot #5 Axle | |
| F | | Pivot #1 Spacer | |
| G | | Pivot #2 Spacer | |
| H | | Pivot #3 Spacer | |
| I | | Pivot #4 Spacer | |
| J | | Pivot #5 Spacer | |
| K | | Pivot #1/#2/#4 Bolt | |
| L | | Pivot #3/#5 Bolt | |
| M | | Forward Shock Bolt | |
| N | | 680 1V Bearing | |
| O | | Pivot #1 Inner Spacer | |
| P | | Pivot #2 Inner Spacer | |
| Q | | Forward Shock Axle | |
| R | | Forward Shock Washers | |
| S | | Rear Shock Bolt | |
| T | | Revel Axle | |
| U | | Rail/Rascal Derailleur Hanger | |
| V | | Rail/Rascal Derailleur Hanger Bolt | |
| W | | Downtube Hose Clamp | |
| X | | Hose Clamp/Bottle Mount Bolts | |