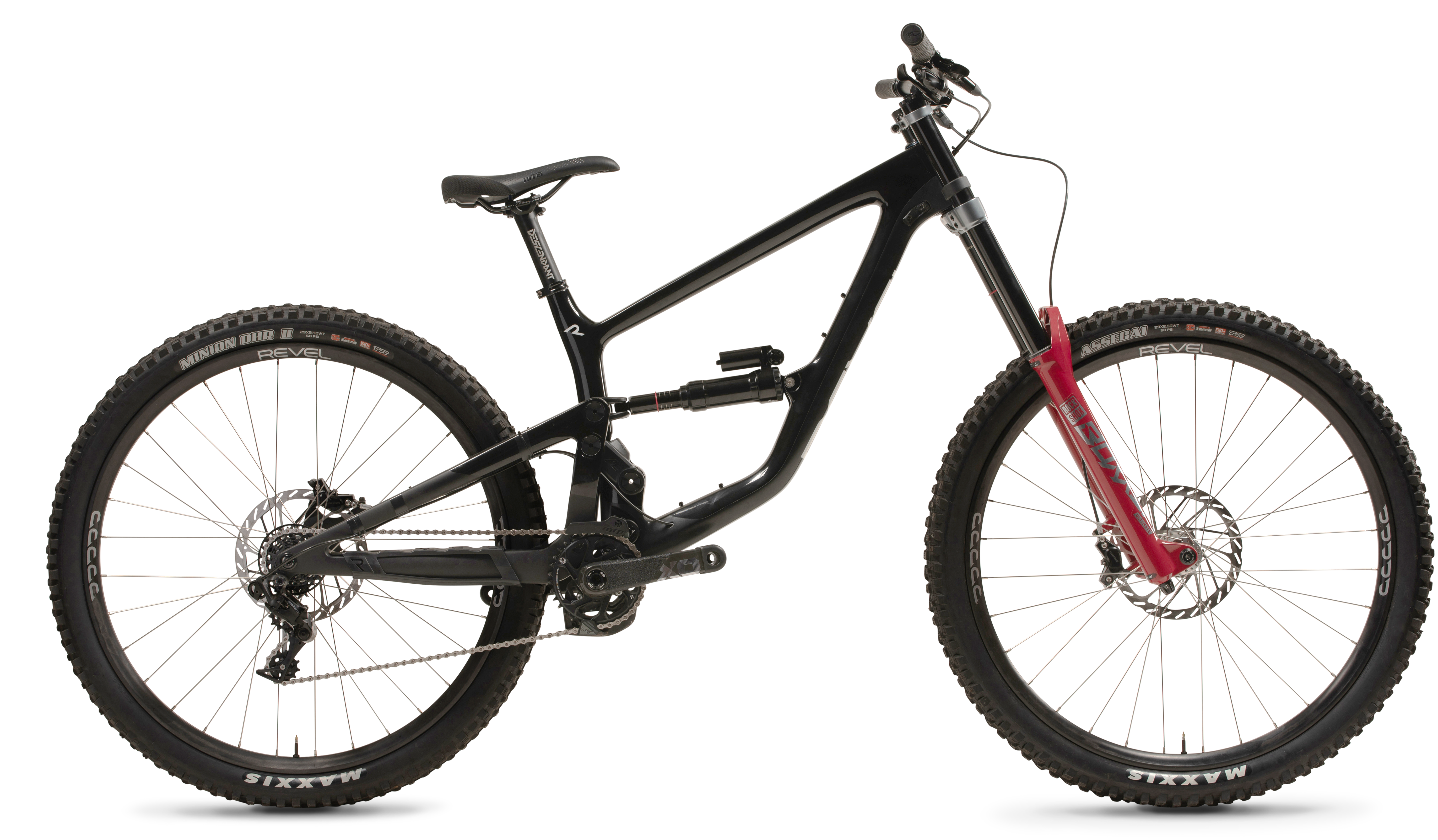 Overview
The Future in 3D
A 3D printed composite CBF downhill bike?! The Rodeo is just a concept for now and it's not for sale. But we wanted to show off what our team has been working on because this stuff is fun! Still, it serves as an example of conviction, innovation, and what is possible with current technology and what could be a reality in the future. It's hard not to get excited about the prospect of a 3D-printed carbon bike made here in the United States, and the ramifications could mean incredibly improved prototyping and development processes for bike brands, safer conditions in production facilities, significant environmental benefits, and greater customization for the rider at better costs. Revel believes that this method of frame production could be the future for carbon bicycle manufacturing, and the Rodeo is proof that this is a real possibility that could become more of a reality for practical, reasonable-cost full suspension mountain bikes with continued technological advancements. A 3D-printed carbon mountain bike is doable, and with further innovation, there is even the potential for this thermoplastic composite material to be fully recyclable.
For now, this technology is too new to bring this bike to the masses. The entire process is incredibly time and energy-consuming, not to mention prohibitively expensive, and it is not realistic to bring the Rodeo to production at this time. But as innovations in additive manufacturing and thermoplastic technology continue, the possibilities of mountain bikes like this coming to market become very real.
*Rodeo is a registered trademark of Rodeo Adventure Labs LLC
Key Attributes
3D Printed Thermoplastic Carbon
Frame Material
The CBF™ focuses the center of curvature in a very finite area on the chainline/top of the chainring, pointing the pedaling forces directly where you want them.
Learn More »
| | Size 1 | Size 2 |
| --- | --- | --- |
| | Size 1 | Size 2 |
| Rider Height (in.) | 5'4"-5'10" | 5'10"-6'4" |
| Rider Height (cm.) | 162-178cm | 178-193cm |
| EFFECTIVE TOP TUBE LENGTH | 593.5mm | 620.5mm |
| SEAT TUBE LENGTH | 420mm | 430mm |
| SEAT TUBE ANGLE (EFFECTIVE/ACTUAL) | 77°/68° | 77°/68° |
| CHAIN STAY LENGTH | 443mm | 443mm |
| BOTTOM BRACKET DROP | 25mm | 25mm |
| BOTTOM BRACKET HEIGHT | 355mm | 355mm |
| HEAD TUBE ANGLE | 62.7° | 62.7° |
| WHEEL BASE | 1266mm | 1293mm |
| HEAD TUBE LENGTH | 105mm | 105mm |
| AXLE TO CROWN | 602mm | 602mm |
| FORK OFFSET | 56mm | 56mm |
| TRAIL | 133mm | 133mm |
| STACK | 630mm | 630mm |
| REACH | 448mm | 475mm |
| STANDOVER | 743mm | 750mm |
FRONT TRAVEL
190mm Min / 200mm Max
SHOCK SPEC
250mm x 75mm - 25 x 8 Mounting Hardware Spec
HUB SPACING
Boost 148mm rear / 110mm front
SEATPOST DIAMETER
31.6mm / 3.49mm Seat Collar
REAR BRAKE
200mm Min / 223mm Max, Post Mount
TIRE CLEARENCE
29" x 2.6" max (rear)
BOTTOM BRACKET
Threaded (82mm English threaded)
MAX CHAINRING
38T, 56.5mm Chainline
TAPERED HEADTUBE
ZS44 upper / ZS56 Lower
LEVERGE CURVE
ANTI-RISE
ANTI-SQUAT
The Details
Design Features
CBF™ Suspension
CBF™ suspension system that focuses the pedaling forces above the chainring throughout the range of travel, propelling the bike forward through challenging terrain.
Sram UDH
SRAM Universal Derailleur Hanger (UDH), makes replacement hangers easy to come by and will keep your frame compatible with future drivetrain updates.
Fully Routed Internal Tubing
Build your bike in a breeze and keep your cables quiet with fully routed internal frame tubing. No outside lines make for a clean and tidy look.
3D Printed Thermoplastic Carbon
The material of the future, 3D print manufacturing makes for safer work environments, quick adjustments through development, and rider customizability.
Support
We're always looking to push technology and design in new ways. This is just one example of something that could one day become a Revel product!
Some time in the future! Maybe sooner than you think!
As of now, no. But who doesn't want a DH bike in their lineup?!
Required Tools for Basic Service
» Torque Wrench
» 1x 4mm Hex Wrench
» 1x 4mm Hex Bit
» 1x 5mm Hex Bit
» 1x 6mm Hex Bit
» 1x 8mm Hex Bit
| | Part Number | Description | Qty. |
| --- | --- | --- | --- |
| A | | Pivot #1 Axle | |
| B | | Pivot #2 Axle | |
| C | | Pivot #3 Axle | |
| D | | Pivot #4 Axle | |
| E | | Pivot #5 Axle | |
| F | | Pivot #1 Spacer | |
| G | | Pivot #2 Spacer | |
| H | | Pivot #3 Spacer | |
| I | | Pivot #4 Spacer | |
| J | | Pivot #5 Spacer | |
| K | | Pivot #1/#2/#4 Bolt | |
| L | | Pivot #3/#5 Bolt | |
| M | | Forward Shock Bolt | |
| N | | 680 1V Bearing | |
| O | | Pivot #1 Inner Spacer | |
| P | | Pivot #2 Inner Spacer | |
| Q | | Forward Shock Axle | |
| R | | Forward Shock Washers | |
| S | | Rear Shock Bolt | |
| T | | Revel Axle | |
| U | | Rail/Rascal Derailleur Hanger | |
| V | | Rail/Rascal Derailleur Hanger Bolt | |
| W | | Downtube Hose Clamp | |
| X | | Hose Clamp/Bottle Mount Bolts | |